How to Tell if Pelocchio is lying
Other than her lips moving.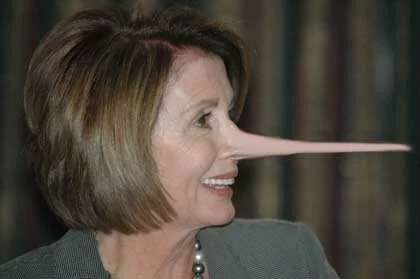 As Legal Insurrection notes, Pelosi's prior comments (more of which, I assume will be rediscovered soon enough) paint a very different picture of her reaction in 2002.  But let's take a mental trip with the Nanny from Franny and see what her world might have looked like, through the eyes of two CIA officers in 2002.
[Setting:  It's a year after 9-11.  People are still opening their mail with gloves on to avoid Anthrax.  Everyone is waiting for the next terror scare, and even Democrats are saying things like "do what you have to do" to stop it.  In fact, they'll still be saying that two years later!
American flags are still waving proudly.  Iraq is still controlled by Saddam Hussein. Obama is a state senator. Michelle Obama is not yet proud of her country.  Code pink is probably inappropriate slang for an attractive girl.
Frank Leigh Maideere is a CIA official who has (or whose team has) gotten approval from the President directly to use enhanced interrogation techniques.  The technique works, and he prevented an attack on LA and broke up an enormous cell in Indonesia.  He's told he needs to brief two Congressmen on the matter.]
[A dingy internal office at CIA headquarters, September 2002.  Flamenco music plays.]
Joe King: "Hey Frank.  What are you doing?"
Frank Leigh Maideere:  "Oh, hey Joe.  I'm just preparing my briefing for tomorrow with Pelosi and Goss.  I'm supposed to tell them about the enhanced interrogation techniques that we're using in Gitmo."
Joe: "How's it going."
Frank: "Well Joe, I'm gonna do something crazy."
Joe: "What's that?"
Frank:  "Well, instead of telling them we've used waterboarding and it worked really well, I'm gonna tell them we haven't used it yet, but we might use it, and if we do, we'll be sure to ask permission first."
Joe:  "Very funny Frank — you know you can't do that!  First, you'll get fired.  Second, you'll probably be prosecuted and, knowing how we keep all those records, you're sure to be found out.  And on top of that, why bother?"
Frank: "What do you mean?"
Joe: "Well, it's a year after 9-11.  Even Democrats are saying we need to do whatever is necessary to prevent the next attack."
Frank:  "True, but I really, really want to lie to Congress about something before I retire."
Joe: "Ha ha.  Seriously.  Why on Earth wouldn't you want to tell Congress what we're doing–especially if it saved lives?"
Frank:  "Well, I just like messing with Congress, ya know?"
Joe: "So let me get this straight:  You've prevented at least one terrorist attack on the US and busted up a huge al-Qaeda cell in Indonesia.  You've done all this by tricking an unrepentant  terrorist into thinking he's drowning.  And the guy is perfectly healthy now."
Frank: "Yeah, that's right."
Joe: "And you're incredibly busy now, trying to prevent the next wave of attacks.  You haven't slept more than 2 hours a night in the past year and have had no vacation time.  And have precious little time to devote to a complicated scheme to defraud Congress."
Frank:  "True."
Joe: "Anything else I should know?"
Frank: "Well, in 6 years, a first term Senator will slip into office on an anti-Bush agenda, making everyone think what we're doing is wrong.  Even though he plans to keep using the same techniques, he's going to allow Congress to investigate.  When he does, this will all lead back to me."
Joe: "Okay.  So tomorrow, you have the choice of either (i) telling the chair and ranking member of the intelligence community the good news that we have prevented a major attack using a relatively harmless technique or (ii) lying to them about how we learned the information, even though they have publicly said they are committed to doing whatever is necessary?"
Frank: "That's about it."
Joe:  "And if you tell the truth, you'll be cleared of any wrongdoing by their informed consent.  But, if you lie, you will be the only person on the hook and most likely promptly found out, fired and prosecuted.  At best, you will have a cool story to tell your grand kids."
Frank: "That's about it."
Joe: "Why on Earth would you lie to Congress?"
Frank:  "I'm a loner.  A rebel.  And besides, where's the fun in covering your behind."
Joe: "I think you need to rest."