Weekend Download – May 29 through May 31
Yesterday's News Tomorrow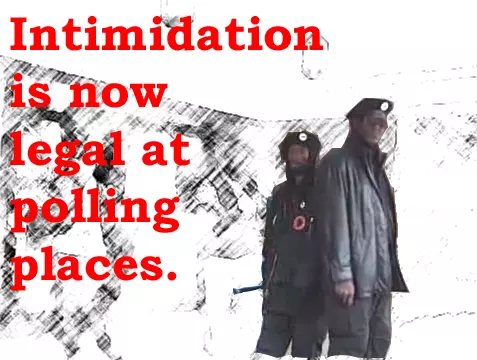 The Weekend Download is a weekly update of all the important stories you missed if you shut off the news on Thursday night.  As every prior administration in the modern era, the Obama Administration loves to make impolitic announcements on Fridays and weekends, to minimize the political impact.  This weekend was no exception.
Black Panthers Case Dropped, After Default
On Friday, the Obama Department of Justice dropped the charges against three members of the Black Panther Party who attempted to intimidate voters in Philadelphia the day Obama was elected.  Two of the defendants appeared in uniform and one held a nightstick, which the DOJ had previously characterized as a deadly weapon.  The voluntary dismissal was particularly curious given that the defendants had failed to contest the charges.  A DOJ spokesman claimed that the DOJ had obtained an injunction prohibiting the defendant who brandished a weapon from ever doing so again at a polling place. Perhaps they can also get an injunction against bin Laden from ever killing 3,000 Americans, again. That and a sternly worded letter should do it.
The Obama DOJ also began an investigation against popular Arizona Sheriff Joe Arapao.  Taken together, these two cases show Obama's politicization of the Justice Department.
The video of the election day incident is below.
Obama Announces New Stimulus Lobbyist Rules
The White House announced new "lobbying" rules regarding the massive $787 billion stimulus bill.  The new rules will prohibit any person, not just federally registered lobbyists, from having a conversation with any administration official regarding a project funded by the stimulus bill.  (All communication must be in writing).  The restrictions apply only to those projects subject to competitive bidding (estimated to be merely $60 billion of the $787 billion).  Critics have claimed that such a broad prohibition amounts to an infringement of First Amendment rights and could lead to further restrictions on citizens' rights to question the stimulus bill.  Registered lobbyists are now, however, allowed to discuss no bid contracts orally (another win for transparency, we're assured).
Two Congressional Dems Hit by Scandal — If Only People were Listening
Both Representatives James Murtha (D-ranged) and Pete Visclosky (D-Ind[icted or soon will be]) suffered set backs at the hands of the Obama administration, both, curiously, coming on a Friday in the summer.  Rep. Visclosky's campaign and Congressional offices received subpoenas in connection PMA Group, a lobbying firm under investigation by the FBI.
Murtha, who is also allegedly linked to the PMA scandal, has steered millions in taxpayer dollars to a defense contractor , Kuchera Defense Systems.  On Friday, the U.S. Navy cut its ties with Kuchera, citing allegations of fraud. Murtha has received over $60,000 in campaign and PAC contributions from Kuchera since 2002.
White House Says Sotomayor Didn't Mean It — But Won't Say What She Did Mean.
On Friday, both President Obama and his Press Secretary Robert Glibbs both claimed that Judge Sonia Sotomayor "mispoke"  and would like to rephrase her remarks of 2001, when she said that a Latina judge would reach a "better" conclusion than a white male judge.  The statement, seen by many as racist, had not previously been acknowledged by either the President or Judge Sotomayor after her nomination to the Supreme Court.  Judge Sotomayor has not herself apologized, or explained her remarks, nor has she given any indication of what her words might have been had she realized speaking her mind would have resulted in accountability.  Nor has President Obama explained why he feels a judge who cannot chose her words carefully is qualified for the high Court.
Obama Spends Your Money on a Trip to NYC
President Obama (and you, as taxpayer) treated First Lady Michelle Obama to a trip to New York City and a Broadway show this weekend.  Republicans attacked the trip as wasteful and extravagent, especially in light of the fact that the date night came on the eve of General Motors filing for bankruptcy Monday morning in the same city. But the shots also came from the Left.  The trip costs taxpayers an estimated $24,000.
Classy statesman and tax cheat Charles Rangle (D-on't pay my taxes) used the President's visit as an opportunity to drum up racial tension (and polarize the voters) in the city.  New York is still recovering from the death of an NYPD police officer, Omar Edwards.  Officer Edwards, who is Black, was accidentally shot by another officer while he (Edwards) was in plain clothes, brandishing his sidearm.  Rangel "joked" that Obama should be careful if he comes to New York City, being a Black man, he may be shot by the NYPD.  A police union official fired back, saying "if he was waving a gun he might be[, you fat, retarded prick.]"  I added that last bit.
Global Warming™ Ain't
NASA announced on Friday that solar activity, (the primary source of all global warming in the only sensible meaning of the phrase) is at its lowest amount since 1928.  NASA continues to reluctantly acknowledge the correlation between solar activity and mean global temperature.  (Unlike CO2, solar activity has a high correlation and is a leading indicator, not a lagging indicator.  This means it causes warm temperatures.  CO2 does not.)  Relatedly, frost warnings were issued in much of New York for Sunday night, certainly an unusual occurrence after Memorial Day.  But what do I know? I jess got book learnin.  Al Gore gots him one of 'em shiny medals.
Random Acts of Stupidity:
Obama learns of the existence of one of his intelligence agencies — at a burger joint.  (Video below).
Crazy, racist, anti-American and liberal cartoonist Ted Rall calls Obama "useless" and "dangerous"; says he should resign.  (In anticipation of a libel suit, I hereby pose as a defense, anyone who thinks President Biden is a good idea is de jure "crazy.")
Gibbs calls the entire British press untrustworthy in order to dodge a question.  Once again, the Obama administration showing it knows no reason for a president not to throw slurs around (video).
After saying it wasn't, the Obama administration now says that North Korea is a threat.  If you don't like an Obama policy, wait five minutes.
Also of Interest:
USA Today reported that each American owes $546,668 to support the amounts the federal government has already promised.  That doesn't include the billions in autoworker pensions that Obama will be putting on your back when both of his auto companies fail again next year.
Record producer Phil Spector sentenced to 19 Years for the murder of Lana Clarkson.